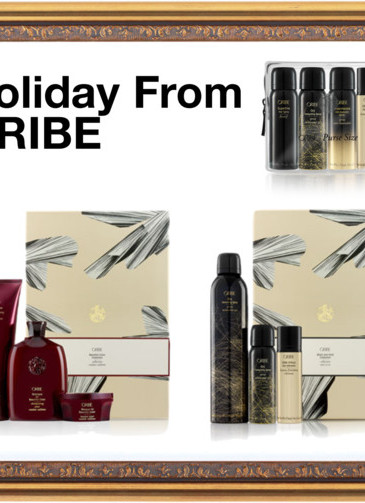 November 6, 2013
Desa Salon Introduces Oribe's Holiday Collections!
W are offering 3 different sets:
Black and Gold Collection
Our invisible dry spray builds in incredible volume and sexy texture, while a mist of our signature fragrance refreshes hair, neutralizes odors and cuts static, leaving you with just-styled hair for days (and nights).
Includes:
Dry Texturizing Spray (300 ml / 8.5 oz)
Dry Texturizing Spray Purse Size (75 ml / 2.2 oz)
Côte d'Azur Hair Refresher (65 ml / 1.6 oz)
Beautiful Color Collection
Add life and shine to your hair with the latest color-maintenance technology. Intense cuticle-enriching conditioners, color-protecting UV filters and next-generation frizz-taming biopolymers supercharge this reparative, glossifying trio.
Includes:
Shampoo for Beautiful Color (250 ml / 8.5 fl. oz)
Conditioner for Beautiful Color (200 ml / 6.8 fl. oz)
Limited Edition Travel Size
Masque for Beautiful Color (50 ml / 1.7 fl. oz)
Purse Size
Oribe's Purse Size sprays make it easy to take your favorite products with you for effortless styling and touch-ups. Now, this collection comes with its own travel bag for trips where multiple looks are required. The Travel Bag includes Purse Size versions of Dry, Imperméable, Superfine and Côte d'Azur to help you brave all the elements and keep your hair looking great wherever your days (and nights) may take you.
Includes:
Dry Texturizing Spray Purse Size (75 ml / 2.2 oz)
Imperméable Anti-Humidity Spray Purse Size (75 ml / 2.2 oz)
Superfine Hair Spray Purse Size (75 ml / 2.2 oz)
Côte d'Azur Hair Refresher (65 ml / 1.6 oz)