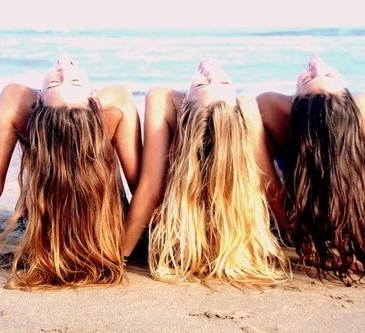 April 25, 2014
Get Your Hair Ready For Summer
As we start to shop for sunscreen products for the approaching summer months, we need to also start thinking about protecting our hair as well as our skin. We all know that the sun's ultraviolet rays can cause severe skin damage, but the sun's harmful rays can also damage our hair from the cuticle to the cortex – from the outside in.
Sun, salt, sand and chlorine are all harsh on your hair. The best way to protect your hair from these elements is to cover it. When you are going to be outside in the sun for long periods of time i.e. a trip to the beach, outside concert or fair, use a silk/satin scarf, silk/satin lined cap or hat, or even an umbrella to protect your hair.
Another step you can take to protect your hair from summer elements is moisturize, moisturize, moisturize. Sun, salt, sand and chlorine all rob your hair of moisture, which is an integral part of maintaining healthy hair.
Make sure to use a leave-in conditioner as a part of your hair care routine. In the summer months implement more deep conditioning and hair masks as well, which will help prevent damage by coating the hair shaft so that there is a protective barrier between your hair and the elements.
Oils such as Sesame oil, Avocado, Jojoba, Coconut, Aloe Vera, and Macadamia Nut oil are all natural sun screens that can provide UV protection. And remember, after washing your hair rinse with cool water to close your hair cuticle (the outer coating of the hair) to make it smooth which helps with frizz and adds shine without the need for silicone products which will cause product build-up.
Make it a goal to stay away from heating appliances, flat irons, blow dryers etc. and opt for wearing protective styles such as braids, twists, updos, sew-in weaves and wigs to protect your hair in the summer months. Also remember to trim your hair when needed, and seal your ends for extra protection. Of course, a healthy diet and exercise also help with overall hair health. Vitamins A, C, D, E, H, Selenium, Beta Carotene, Zinc, and Potassium also help with conditioning and protecting your hair.
Conditioning your hair before swimming will help protect your hair from the effects of chlorine. Also, before getting into the pool, take advantage of those pool showers and rinse your hair before getting into the water. By rinsing your hair you will allow your hair to absorb chlorine-free water, thereby keeping the saturation of the chlorine-filled water to a minimum.
Also rinse or wash you hair if needed after swimming and even sweating to get rid of the chlorine and salt. Try doing a leave-in hair tea rinse – Chamomile, Green Tea and Calendula tea rinses can help sooth and cool your scalp as well as protect your hair from the sun .
You can even fill a spray bottle with your tea rinse, add a little of your favorite essential oil and/or conditioner to make a spritz to be used to cool your hair after being out in the sun all day or used before you go out. Leave your rinse in the refridegerator to keep it cool and you can also pour a little in a mini spray bottle to take it with you to use throughout the day.
Mention this post during your next visit at Desa Salon and receive 10% off select protection products from KEVIN.MURPHY, Oribe, and Moroccan Oil untl the end of June!