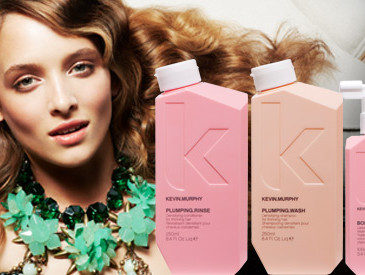 March 19, 2014
Introducing the PLUMPING.LINE from KEVIN.MURPHY
PLUMPING.WASH
Densifying shampoo for thinning hairA thickening shampoo. Ginger Root and Nettle Extracts strengthen and densify fine hair, leaving the hair and scalp revitalised and refreshed. Sulphate & paraben free.
Directions: Apply to wet hair and massage into hair and scalp. Rinse & repeat.
FEATURES & BENEFITS
Nourishing to hair follicles
Thickening
Stimulates blood circulation in the scalp
Exfoliating
Growth accelerator
Maintains integrity of hair's health
Reduces DHT
Prevents hair loss
PLUMPING.RINSE
Densifying conditioner for thinning hairA thickening conditioner. Lovely Hemsleya Root rich in Oleanolic Acid, nourishes and restores for thicker, stronger hair. Paraben free.
Directions: Apply to freshly washed hair, leave for 1- 2 minutes then rinse.
FEATURES & BENEFITS
Hydrating
Protective and strengthening
Maintains hair in growth phase
Thickening
Prevents hair loss and damage from DHT
BODY.MASS
Leave-in plumping treatment for thinning hairCitrus Flavonoids, Ginger Root Nettle and Parsley extracts, will thicken hair and prevent breakage. Rich in Oleanic acid that helps to fortify and strengthen the hair at the root to prevent thinning and falling hair.
BODY.MASS uses eyelash thickening and lengthening technology to strengthen hair, making your hair appear thicker and fuller instantly, whilst improving the quality over time. Paraben free.
Directions: concentrating on the roots and scalp, spray all through damp or towel dried hair. Do not rinse.
FEATURES AND BENEFITS
Stimulates hair growth
Strengthening and fortifying
Thickening
The PLUMPING.LINE is available March 25th at Desa Salon!