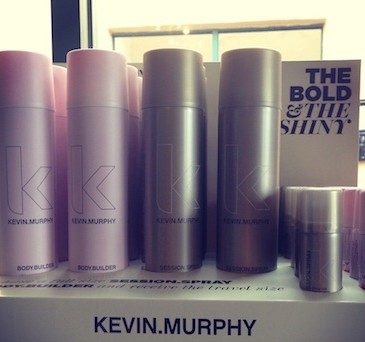 May 23, 2014
Make your hair BOLD and SHINY with KEVIN.MURPHY!
(THE BOLD)BODY.BUILDER
Volumising Mousse.
Work that body and boost your hair with flexible fullness and hold.
Essential oil of Tangerine locks down the cuticle to create shine, whilst Vitamin B5 binds moisture onto the hair.
BODY.BUILDER is a product that you can layer onto the hair to create smooth big shapes. Don't be afraid to use quite a lot of BODY.BUILDER as it is weightless and moisturising so you can go for it without any fear of a crunch.
The benefit of mousse is that it makes the tiny spaces between the hairs greater so essentially it makes the hair thicker and fuller. BODY.BUILDER can be used to define waves on just about any hair length, type or texture. BODY.BUILDER is particularly effective on fine hair and hair that is dry or damaged.
(THE SHINY) SESSION.SPRAY
Strong Hold Finishing Spray.
This aerosol provides a firm, weightless, lasting hold. It contains hydrolyzed wheat proteins, natural fragrance oils, and a UV shield for colour protection. Firm hold styling resins provide intense hold and memory with excellent resistance against high humidity, allowing brush ability with no flakiness. SESSION.SPRAY is a low VOC and CFC free hairspray
Purchase a full size SESSION.SPRAY or BODY.BUILDER and receive the travel size for free at Desa Salon!