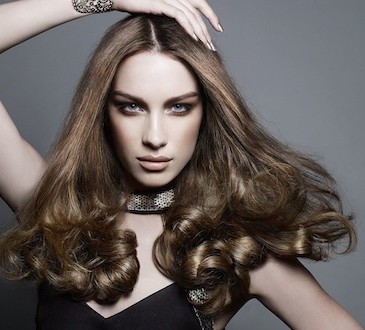 April 11, 2014
Product Tips from Kevin Murphy!
1.     SESSION SPRAY
Don't just think that SESSION.SPRAY is just a hairspray, I didn't want to create another dry flaky spray. I don't like the Idea of shine sprays as they tend to make the hair lank and not hold but I needed something for shine. I decided to blend the two products together. I wanted a shine spray that had hold, that wasn't going to make the hair greasy we achieved this using flexible moulding resins. The way to achieve the shine wish hold is to lightly spray the hair with the SESSION.SPRAY all over the head wait a about 5 seconds for the product to dry, then take a wide tooth comb and comb the hair you will see the hair shine and actually look shiny with no residue. Then lightly spray over again to get extra hold if desired I prefer the hair when you go over with a wide tooth comb after the spray it will have bounce and wont be stiff.
2.     ANTI.GRAVITY & STAYING.ALIVE
The ANTI.GRAVITY and STAYING.ALIVE combo is great for hair that is on the finer side or hair that has been colour damaged. The STAYING.ALIVE is a natural thickener to the hair because of its vitamin content. "when vitamin's are placed onto the hair they can thicken the hair up to 10%. The STAYING.ALIVE is also a thermal protector so its great for coloured hair or hair that tends to dehydrate from over blow styling. Spray the STAYING.ALIVE onto damp hair first and don't worry you cant ever really spray too much as this product absorbs fully into the hair. Then take your ANTI.GRAVITY and add a few squirts of STAYING.ALIVE  to the ANTI.GRAVITY this will ensure you have lots of slip for the blow out the result will be a full bodied blow wave that is shiny and fuller with no evidence of products
3.     BODY.GUARD & EASY RIDER
I love this combo for hair that is thicker that gets dry easily. This is great for coloured hair that has been coloured over a long period of time or has bleached highlights over a tint. Its more for the courser head of hair so you're going to offer this for your over 40 clients that tend to have brittle hair from long term colour
BODY.GUARD is your thermal protector and should be applied to damp hair first from mid lengths to ends. BODY.GUARD has 9 essential Oils that act as anti oxidants this makes it perfect for a post colour leave in repair product.
The EASY.RIDER had vitamins and minerals that treat the hair as it styles, you would blend    BODY.GUARD & EASY.RIDER  together in the palm of your hand. If the hair is really course then go 50/50 if the hair is fine textured but a lot of it then go 60% BODY.GUARD to 40% EASY.RIDER. If the hair is really course and the ends a brittle then add more easy rider to the ends before the blow dry. The result with be really smooth shiny hair. The benefits of this combo is styling products that treat you hair at the same time that it styles
All these KEVIN.MURPHY products plus many more are available at Desa Salon!